DAYS: 000 | MILES: 000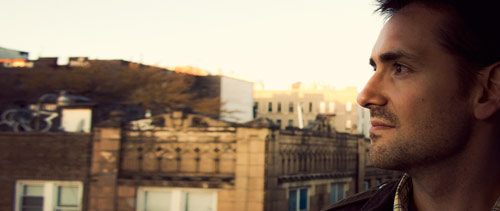 // MY NAME IS DANIELAnd after years of dreaming I've sold everything I own and set off on the open road. I've made this site as a sort of photo journal of my travels. The map shows where I've been (red), where I've stayed a month or more (yellow), and where I plan to go (white). And so, armed with little more than a backpack, a camera, and a dream, I now take the road less traveled by. So it goes.
.
KEY





LA BALZA I crossed into Ecuador at La Balza, a tiny and remote border crossing between Peru and Ecuador hidden high in the mountains. The first photo below is the Quebrada Balsas River which separates the two countries. The crossing seems to get very little traffic. In fact, on the Peruvian side the immigration officer was asleep and on the Ecuadorian side he wasn't there at all. Asking around, it turned out he was at the river playing volleyball. The only bus out of the mountains came once a day. It was some sort of flat bed truck with benches, which you can see below. It snaked through the mountains for hours, around harrowing bends, over rivers, and threatening to bounce us right out of our seats and over a cliff all the way.
VILCABAMBA The first town I visited was Vilcabamba, high in the Andes Mountains. Small, charming, and surrounded by some of the most beautiful scenery on Earth, Vilcabamba has attracted a great number of retirees from North America and Europe. Hiking trails extend in nearly every direction from the center of town. When I'm old and gray, I will definitely keep this place in mind.
QUITO Now is as good a time as any to mention the great photopocolypse of 2015. Normally I back up my photos online, but that requires a stable internet connection, and for two months while backpacking through Ecuador and Colombia I had difficulty finding just such a connection. And then disaster struck --- I lost my laptop when it fell into the Amazon River, which meant I lost nearly two months of photos. I lost nearly everything from Ecuador. All my photos of Montanita, the tiny beach paradise town. All my photos of Cuenca, the ancient colonial gem and one of the most beautiful cities in South America. My photos from Quito, Banos, Otavalo, Guayaquil, and so many more. All I had left were a scattering of photos that I had taken on my backup point and shoot camera, most of which were actually taken by my friend who had no camera of her own. Without the photos she'd taken, I'd have basically nothing. There's a photo of her below standing on the Equator, with one foot in the Northern Hemisphere and one foot in the Southern Hemisphere.... in Spanish Ecuador actually translates to Equator. You'll also notice that Ecuador has free universal healthcare, which I used to get some vaccinations for my upcoming journey into the Amazon.
GUAYAQUIL If Cuenca and Quito are colonial storybook cities then Guayaquil is the ugly industrial step-sister. It's also the largest city in the country and a major port. But it did have some interesting little districts. And iguanas. So many iguanas.
AMBATO I headed first to Cuenca, Guayaquil, and the coast (which having lost almost all my photos, you'll just have to take my word was very beautiful). Then I headed back into the Andes Mountains, which effectively cut Ecuador in half. Ambato was really just a transfer point, though there was an interesting market there.
OTAVALO Otavalo is a highland city near the Colombian border and home to the Otavalo people, an indigenous group renowned for their craft making, markets, and distinctive dress. I stayed with a local family in a farm house in a small village nearby. You can see the village church, the farm house, and some potatoes and quinoa crops from the farm in the middle photos below (you can also see a stencil of a traditional Otavalo woman that my friend made for the farm house). Below the farm house you can see the market. The Otavalo people have a lot of traditions and a traditional religion, which my host family told me was under threat from Christian missionaries. Conversion was causing great rifts among families and peer pressure at schools was causing children to feel embarrassed wearing their traditional dress (one should read 'Things Fall Apart' by Chinua Achebe for a portrayal of just how insidious and narcissistic mission work really is).
BANOS Banos is a nature lovers dream town. I took quite a few photos here which were all sadly lost. A short trek in any direction offers river rafting, bungie jumping, jungle touring, mountain zip-lining, and so much more.
COCA Ecuador is predominately a mountain nation but there are small slivers to either side of the mountains; the ocean beaches and coastline to one side, and the jungles of the Amazon on the other. In fact the snow and run off from the mountains feed the tributaries of the Amazon. Reaching Coca in the Ecuadorian jungles was no easy task, it involved crossing the Andes Mountains and then navigating the dense rain forest to the very point where the roads end and the Amazon begins. I came here for a specific reason, to catch a cargo boat I had heard about and travel six days down the Rio Napo where I would meet up with the Amazon River itself in Peru (check out Peru to see those photos). It was here that I lost most of my photos when my laptop fell in the river, so I have little to show of Coca, other than a few of the larva that are sold on nearly every street corner. Bon apetit.