DAYS: 000 | MILES: 000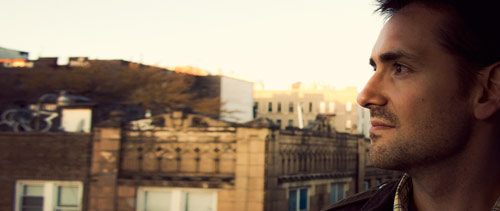 // MY NAME IS DANIELAnd after years of dreaming I've sold everything I own and set off on the open road. I've made this site as a sort of photo journal of my travels. The map shows where I've been (red), where I've stayed a month or more (yellow), and where I plan to go (white). And so, armed with little more than a backpack, a camera, and a dream, I now take the road less traveled by. So it goes.
.
KEY





SAN PEDRO AMBERGRIS CAYE Belize. I arrived here from Mexico, by fast ferry, through the Carribean Sea. Though most of Belize hugs the coast line of the Central American mainland, I first arrived on the island of San Pedro, one Belize's many cayes (pronounced 'keys'). This particular caye was made famous by "La Isla Bonita" by Madonna. After a few days here, wandering the beaches, avoiding the legions of golf carts which are the main form of transportation on the small island, I took another ferry, to visit a few more of the cayes of Belize. Truly unBelizable.
CAYE CAULKER BELIZE DISTRICT Caye Caulker is a small sliver of land surrounded by crystal clear blue waters. Comparing Caye Caulker to San Pedro, perhaps Belize's two most popular islands, I think I preferred the laid back, more bohemian atmosphere here. The streets are sand, the beaches long, and the going slow.
SAN IGNACIO CAYO DISTRICT After island hopping through the Caribbean islands of Belize, I arrived by ferry onto the mainland. A quick transfer to the bus station took me to the western part of the country, specifically to San Ignacio. With 20,000 people, it's the second largest city in the country (the capital, Belize City, has 60,000 while the entire country is home to only 400,000). Despite being such a small town, San Ignacio is home to many different groups, including Spanish Speaking Mestizos, English Speaking Kriols, Mayan Speaking Mopan, German Speaking Mennonites, as well as Indian, Chinese, and Lebanese immigrants. I came here specifically to visit some ancient Mayan ruins, but those photos will come later. First the town:
HOPKINS STAN CREEK DISTRICT From San Igancio I made my way back to the coast, following it south by inter-city bus (which in Belize are old converted US School buses) until I reached the tiny beach village of Hopkins. Hopkins is a Garifuna village. The Garifuna are the descendants of ship-wrecked would-be slaves in the Carribean who washed up on the islands and intermarried with the local natives. The French took the islands and tried to force the natives and Africans into work, however later the British (who were anti-slavery) took the island. They didn't want to make the Garifuna slaves but they also didn't want them living there, so they sent them to the coasts of Central America. Many ended up in British Honduras, which today is Belize. It so happened that while staying in Hopkins, we were hit by a hurricane and nearly forced to evacuate.
PUNTA GORDA TOLEDO DISTRICT From Hopkins I went to the southernmost district of the country, to the town of Punta Gorda. Punta Gorda, while an interesting little town in it's own right, was really my gateway into the dense jungles separating Belize from Guatemala where I heard one could do a homestay in the many Mayan villages there.
AGUACATE TOLEDO DISTRICT I was right about the Mayan homestays (even though the local tourism office told me it was not possible). Fortunately an American soil scientist I met was able to put me in contact with the chief of one of the villages and I stayed with a kind family in the lovely village of Aguacate, which is reached only two or three days a week by an hours long drive through jungle mud roads in a converted school bus. Aguacate seemed untouched by time (though sadly not untouched by Christian missionaries and their systematic, ego-placating, missions of cultural genocide). I wish I had had more time here. There was so much to see and learn.
TOLEDO DISTRICT A few more shots of Toledo District and the Mayan jungles, home to two distinct Mayan groups, one speaking Mopan Mayan and the other Kekchi Mayan. The Mennonites settled a village here as well, so it's not uncommon to see little blonde girls and boys in overalls on the local buses. The whole region was beautiful and a local guide took me through some of the jungles and even to a massive sink hole cave.
CAHAL PECH CAYO DISTRICT I visited two ancient Mayan cities in Belize. The first was Cahal Pech which is actually near Punta Gorda. Cahal Pech was probably a hilltop palace for an elite family, built during the Classic Period of the Mayans. It was abandoned around 900 AD. Indeed the entire Mayan civilization collapsed around this time and nearly all of the Mayan cities were abandoned and left to be consumed by the jungles of Central America, for reasons that are still one of the greatest unsolved mysteries in modern day archeology.
XUNANTUNICH CAYO DISTRIC Also in Cayo District I visited another, perhaps even more impressive Mayan site known as Xunantunich. Though whatever name the ancient Mayans had given it is now lost to time. Xunantunich collapsed and was abandoned at the end of the Classic Mayan period, just like nearly all the great Mayan cities, though it managed to hold on about a century longer than many of its neighbors. Excavation work was still being done while I was there. Perhaps some secrets are still left to be discovered.